Polynum™ Super
Polynum™ Super is Polynum™ best seller, with more than 40,000,000 (40 millions) m2 installed worldwide.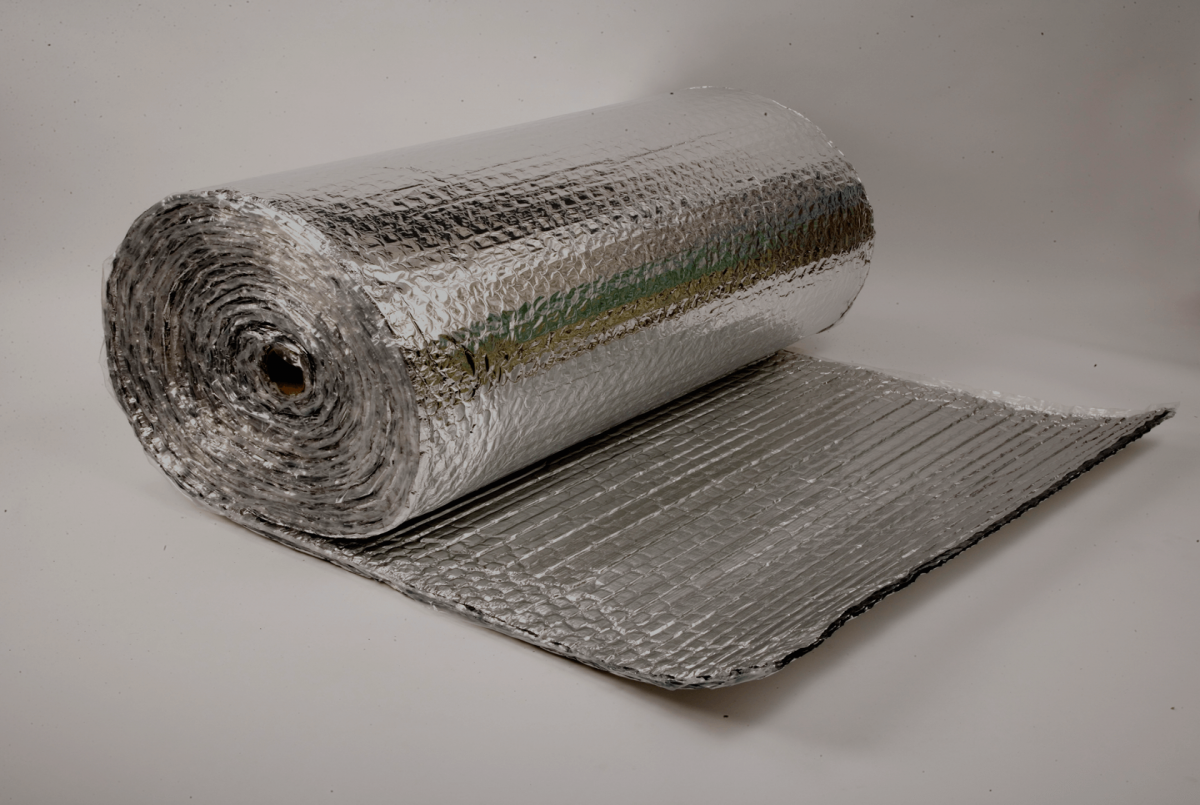 Specifications
Nominalthicknessmm (mm): +/- 4.0
Emissivity (ASTM E 408): 0.03-0.05
Reflectivity (ASTM E 408): 0.95-0.97
Anti corrosion treatment: Yes
Yield (nominal) g/m2: 255
Standard Roll Size (m X m ): 1.20m X 60m
Coverage area (m2): 72.00
Standard Roll Weight (Kg): ±18.00
Polynum™ Super – how does it work ?
In the summer, Polynum™ reflects the sun's heat during hot days.
In the winter,  Polynum™ maximizes the thermal efficiency by preventing the inflow of cold air from outside and reflecting the heat inside the room.
Radiant heat from the sun is the main cause of roof heating.
Radiant heat is actually a type of infrared energy that travels at the speed of light, even in vacuum, and may be transmitted, absorbed or reflected by the material it comes in contact with.
For example, air, water, and glass transmit visible light at various angles.
White surfaces such as snow reflect it, and black surfaces absorb it.
Polynum™ insulation reflects 97% of the radiant heat hitting its surface.
Polynum™ Super
is non-toxic, non-carcinogenic and environmentally friendly.
It does not cause allergies or skin irritation.
It has excellent waterproof effect.
It prevents heat loss or inflow, acting as a natural condensation inhibitor and offering moisture proof features.
The thickness of the product is only 4.0mm~9.0mm, thus allowing a better use of space.
Each layer of silver foil is specially pure aluminum foil, especially treated for high heat resistance, impermeability, corrosion resistance and durability.
is extremely versatile
is a waterproof insulation material that can be installed easily and quickly, regardless of the location and the shape of the structure. can be used in all climates.
The product is lightweight, the transportation cost is low, and it plays a good role in speeding up the construction process.
also absorbs 50% of noise (i.e. the noise of the falling rain or hail hitting the roof), acting as an efficient sound insulation (noise reduction coefficient = 0.50 or 50%).
Aluminum insulation is the only insulation material that is non-combustible and does not generate smoke even in a fire (Polynum™ is certified UL Fire and Smoke Class A).
May be used in all climates.
Temperature limit usage: -50℃ to 110℃.
The effect of permanent and maintenance-free sound insulation is equivalent to 50 mm thick fiberglass.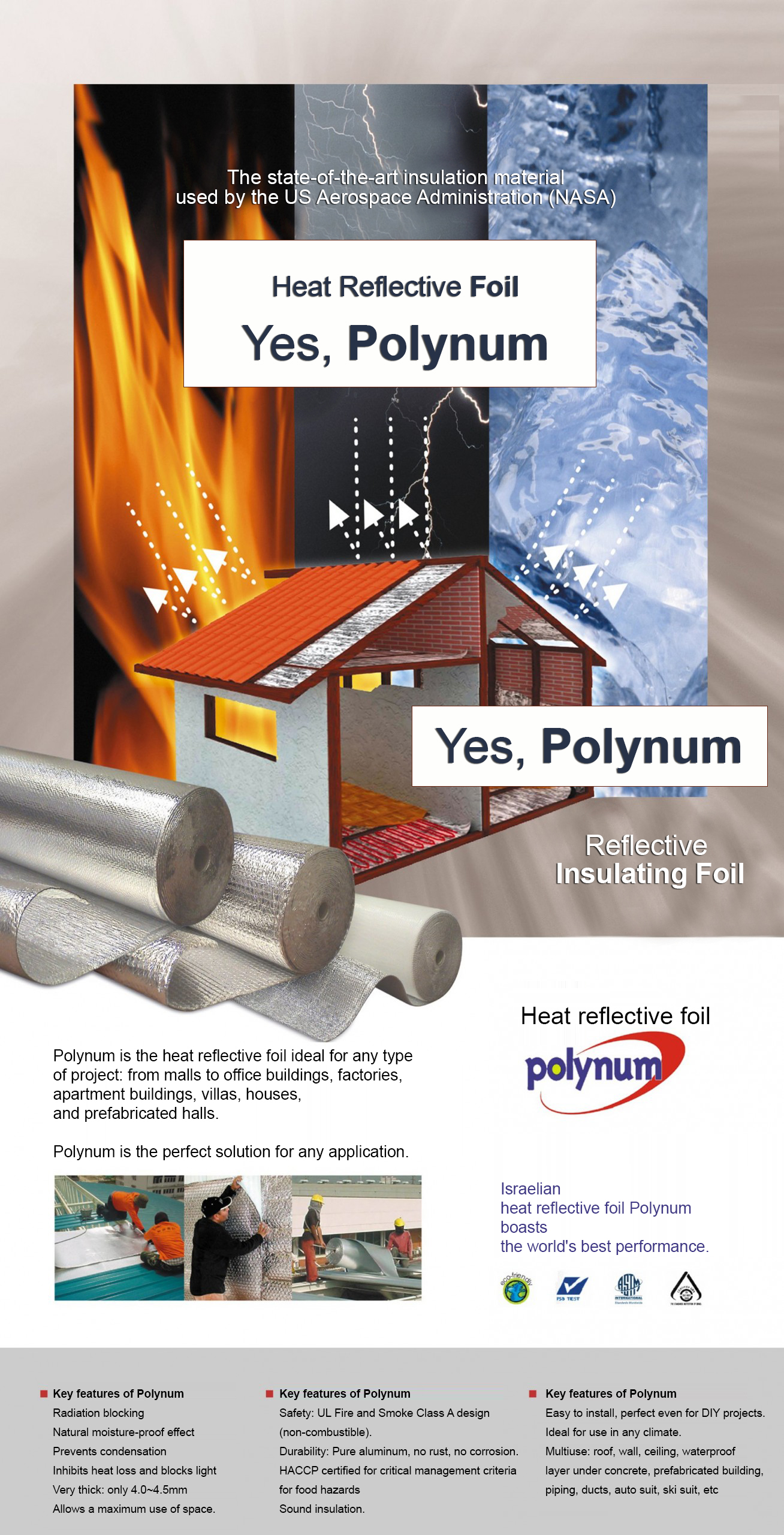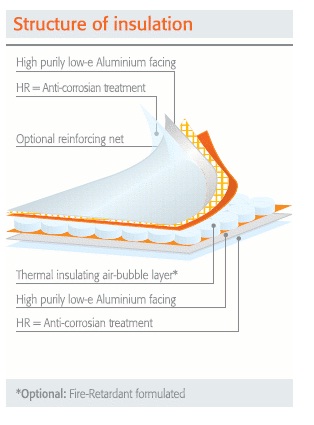 Description
Polynum™ Super
Fiber-free, thermo-cellular reflective insulation, 4.00 mm thick, consisting of a single small polyethylene bubbles core covered with two high performance, high resistance pure aluminum Reflective layers (95% to 97% reflectivity) for maximum radiant heat reflection (low radiant heat absorption) with a tested emissivity of 0.03 to 0.05.
Polynum™ products for durable maximum performance under all climate conditions, including: coastal area, highly humid area, livestock buildings and so on.
All Polynum™ insulation products are manufactured using a modern and established technology, which has been developed in our own manufacture facilities, to ensure Polynum™ products' durability and functionality when installed in buildings.
Polynum Big
Polynum Big is made of a strong polyethylene super bubble core layer covered on both sides in 99.4% pure aluminum foil, especially treated for high heat resistance, impermeability, corrosion resistance and durability.
Polynum Big reflects 97.4% of the radiant heat.
Key features
the best heat resistance (R-Value)
the 8mm thick bubble layer brings both thermal and sound insulation at the same time permanent installation and maintenance-free soundproofing effect
is equivalent to 50mm thick glass wool
Opțional
18 microns aluminum with bi-directional reinforcing net for extra strength.
Fire retardant non-dripping bubbles core
Our sophisticated and unique high resistance and anti corrosion
International standard ASTM C236, ANSI/NFPA#244, UL723, IS 775, BS 476, Part 6 ASTM E-84-97a standards, etc
Polynum™ Super – what is it ?
Polynum™  is a reflective insulation made of multilayered aluminum foil, in varying widths and lengths.
The aluminum foil layer reflects 97.4% of the internal and external radiant heat, providing reliable thermal insulation.
In addition, the air bubble wrap made of polyethylene provides a strong radiant heat transfer resistance, thus increasing its insulating properties.
Polynum™ also offers vapor-proof features, acting as a moisture stop foil, and significant soundproofing effect, with 45% noise reduction coefficient and only 0.0018 moisture penetration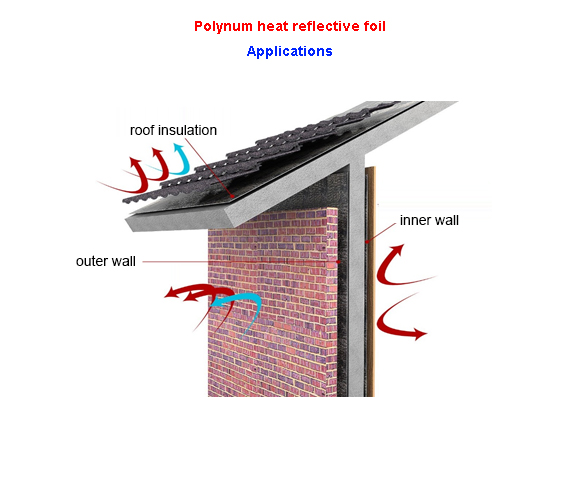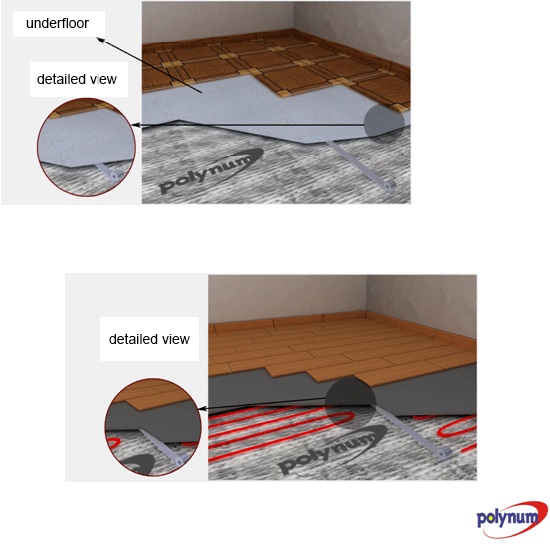 Floor application
Suspended floors
For suspended floors on concrete base with no heating.
Polynum One is installed with the white layer towards the concrete (Aluminiun layer upwards).
A ventilated void of at least 25 mm (1") is provided between the reflective foil and the underfloor.
Metallic joists can be used for obtaining the necessary sub-floor void.
Heated suspended floors
For heated floors on concrete base Polynum One is installed with the white layer towards the concrete (Aluminiun layer upwards).
Provide a ventilated void of at least 25 mm (1") and then install heating.